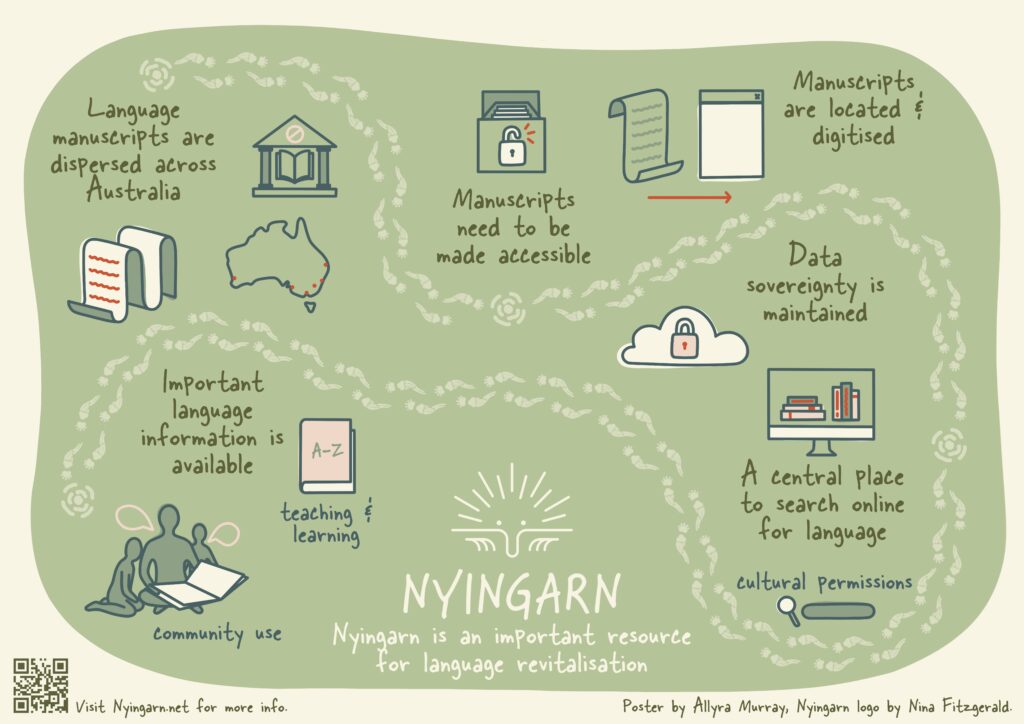 Indigenous language manuscripts are housed in state, national and private collections across Australia and overseas. They can be difficult to access or know where to start. The Nyingarn Project works with its partner organisations (AIATSIS, National Library of Australia, State Library of New South Wales, State Library of Western Australia and the Barr Smith Library, University of Adelaide) to identify and make accessible early language material. We are also building relationships with other state libraries, archives, language centres, and peak bodies.

The Nyingarn community is working hard:
– to assert the right to access language material on community terms,
– support language revitalisation efforts by reducing the transcription burden and,
– build technology to protect and transmit this knowledge for future generations.
As stated by the UN Declaration, "Indigenous peoples have the right to maintain, control, protect and develop their cultural heritage", wherever possible, we need to digitise early language records filled with invaluable knowledge belonging to communities and facilitate digital access for communities to use within community.
Below are some resources and collections to help you get started.
Some collections have listed their material with their AUSLANG codes, helping to identify languages within the manuscript.

Rediscovery Indigenous Languages Project, State Library of NSW
National Library of Australia Indigenous Resources
AIATSIS Collection Search
State Library of WA Aboriginal Collections
State Library of SA Indigenous Collection
State Library of Queensland First Nations Resources
The University of Sydney online resources
AIATSIS Auslang Codes
First Languages Australia resources
Please get in touch with the Nyingarn Team for further assistance.